Contact information:
Email - ryan.theman@sau19.org
​Phone - 603-487-2211 (Ext. 307)
​About the Teacher
​NAME: Ryan Theman
SCHOOL: New Boston Central School
CLASSES: Social Studies and Math
Welcome to my classroom website! My name is Mr. Theman and I'm so excited to be in my fourth year at New Boston. The last three years were incredible! I can't say enough positive things about the New Boston students and community. I am truly blessed to be working with your children. This year, my homeroom will be Gryffindor. I will be teaching Math (Big Ideas) and Social Studies (focusing on Ancient World History). My team teacher will be Mrs. Wilmoth (who teaches Science and Language Arts). It's going to be a fun and exciting year!
Powered by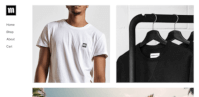 Create your own unique website with customizable templates.